Motorcycle regions in Germany
Germany is home to a variety of scenery for motorcycle tours. Several thousand kilometres of curvy routes connect the individual federal states, and lots of tourist sights en route provide the perfect framework for a motorcycling holiday in Germany.
We have found 1 regions for you.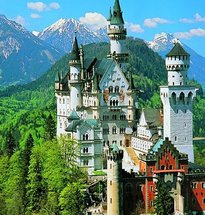 Germany
Bavaria's diverse landscape offers plenty of space for extensive motorbike tours across Germany. The many attractions and lakes in this motorbike region are ideal for relaxing stops.