Motorcycle regions in Italy
Alpine crossings, Dolomite passes, blossoming apple orchards, and Lake Garda – these typify the contrasts in scenery in North Italy, a place that has been attracting motorcyclists for a long time. The Italian charm shown by the hosts, the mild climate, and the delicious Italian cuisine are what distinguish motorcycling holidays in North Italy.
We have found 3 regions for you.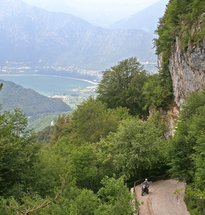 Italy
Lake Garda has always been a popular motorbike region in Italy. The well-developed roads around the lake are ideal for motorbike rides. But the other regions in the Trentino offer just as many curvy kicks.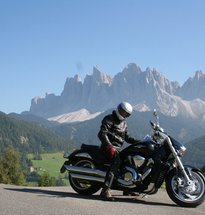 Italy
The peaks of the Dolomites and apple orchards create impressive scenery for motorbike tours. Enjoy the variety during motorbike tours with fascinating panoramic views across the entire motorbike region in South Tyrol.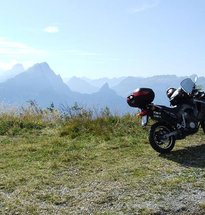 Italy
Over half of this motorbike region in the north of Italy is mountainous and hilly while the remainder of the Friuli is dominated by lowlands. The motorbike tours lead from the curvy roads of the Dolomites to the sea.