Motorcycle regions in Switzerland
Mountains, lakes, impressive peaks and great views; these are what you can expect when on a motorcycle holiday in Switzerland. Lots of half-day and day tours take you over the Swiss passes into the various different Cantons or into the neighbouring countries.
We have found 2 regions for you.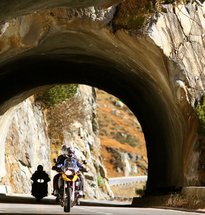 Switzerland
Whether into the neighbouring cantons or across the border into Italy, a motorbike holiday in the Bernese Highlands is full of variety in any case. Mountains and lakes but especially the never-ending views into the distance make motorcycling here so unique.
Switzerland
More than 600 lakes, 900 mountain peaks and 150 valleys invite to motorcycling in Grisons. The typical mountain and highland landscape is ideal for a motorbike holiday in Switzerland for anyone looking for plenty of nature and culture.