Motorcycle competence at Hotel Ciasa Soleil ***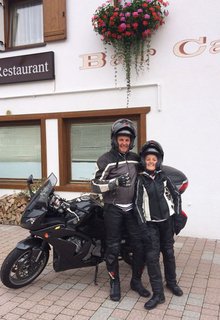 From biker to biker …
If you grow up here in La Villa with the Dolomites' paradise of curves in front of your eyes every day it seems impossible not to develop a passion for motorbikes. That is why I, Werner Bernardi – your host at the Hotel Casa Soleil - too prefer to be out and about across our Alpine passes by motorbike in my spare time.
And what is better than sharing your passion with friends and guests?
As bikers, we are dedicated to or motor biking guests and know their requirements! Being partners of "MoHo - Motorrad Hotels", Europe's leading network of certified motorbike hotels, are we committed to quality. All in all, these are the best conditions for your perfect motorbike holiday!